Maybe you remember my older post which I published 2 months ago on my other blog where I talked about things to do on Mauritius. Mauritius is one of the beach destinations highest on my bucket list and I cannot wait to get there one day.
Similarly as for many, the island would be the best fit for honeymooners and high-end travelers. You don't have to worry when looking for a Mauritius honeymoon resort. There's so many great ones on the island! Does it mean I should find a boyfriend finally and take him to our honeymoon to this tropical island? What do you think? 🙂
Anyway, thinking of a paradise beach holidays on Mauritius sounds more than good to me…
But how about staying fit when traveling there?
Below, I suggest a few things so you don't come back home with a few kilograms more (not baggage full of souvenirs, but I am talking about fat kilograms 😉
If you happen to travel with your partner, a new or an old love, then for sure you should remember that even simple kissing burns calories. The rest of the activities you can do with your loved one I will leave up to you. Hint: Just think of the famous picture book written way long ago in India 😉
Besides tender loving care burning calories, there are a few adventure activities you can do on Mauritius in order to maintain fit. I recommend things like paragliding, ziplining, hiking to get a perfect view of the island and the sea … Kitesurfing and canyoning are becoming very famous among young visitors, too. Swimming and snorkelling are not even necessary to mention as many people do both of them when spending time at the beach.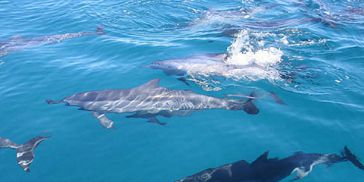 Photographers could keep themselves fit just running around and trying to snap a lovely photo of many wild animals around the island.
If you are not that much into sports and prefer lazy holidays over active one, you can still munch on fresh tropical fruits found at hotels and restaurants around Mauritius, get fresh juices an choose a veggie salad instead of a very heavy unhealthy dinner you can have back home. For sure, try fruits and vegetables that you've never seen and you will find many of them very tasty.
Good news for all the ladies – even being a shopaholic you could burn a lot of calories, especially in such a heat on Mauritius. Trying a lot of clothes and walking from one shop to another counts as exercise, too, doesn't it?
PS: Don't forget to buy travel insurance and stay safe when traveling to this paradise island.