I already mentioned on my main blog, that my favorite restaurant in Costa Rica was Puerto Pirata Puerto Viejo. It's located right on the local beach in Puerto Viejo town. I ate there maybe more than 10 times and there's maybe less than 10 restaurants in the entire world where I returned so many times. What does it mean?
Puerto Pirata is special!
Mostly organic and locally produced ingredients, young coconuts, freshly squeezed juices, smoothies, salads and sandwiches … plus a lot of herbal teas made by a Bribri indigenous doctor for different health issues.
Flora, the owner, put up nutritionally balanced meals based on ayurvedic principles. They all taste awesome, look awesome and are awesomely healthy 🙂
Plus, the deli and the coffee shop is 30 seconds from the beach so you can swim, have some drinks here, then swim again, have a lunch here, and then swim some more. The only disadvantage is that Puerto Pirata Puerto Viejo closes at 6 pm. I so wish I could dine out there, too.
There's many vegetarian, and even vegan options which I was really grateful for. Even a bunch of raw vegan drinks and meals. Thumbs up!
I tried loads of things from the menu together with my friends and my favorite ones were:
DRINKS at Puerto Pirata Puerto Viejo
1. coconut water – called in Costa Rica agua de pipa *Raw vegan
2. bebida de sapo = toad water (a Costa Rican traditional drink made of ginger, crystalized sugar cane juice and lemon) *Vegan
3. Ahua Kombucha – a lot of different flavors, such as noni, ginger, grapes, passion fruit, beetroot etc., all locally home-made by Soul *Vegan
4. juices – freshly squeezed carrot, ginger, turmeric and beet juice for 2,000 colones plus aloe vera added extra if wanted *Raw vegan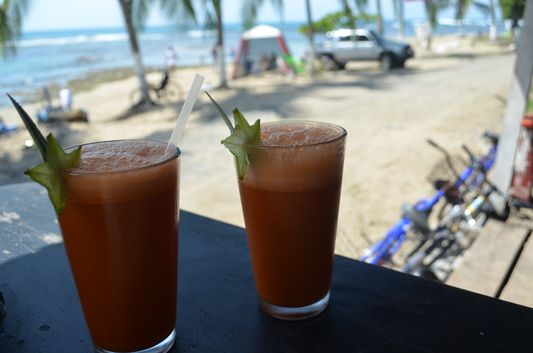 5. smoothies – my fave one was made of berries, orange, sunflower seeds, honey and added fresh aloe vera leaf (without yoghurt that comes with the original recipe) for the price of 2,500 colones. You can add one of my favorite plants – aloe vera into your smoothies only in here (I think in the whole Puerto Viejo area I have not found aloe vera smoothies anywhere else.) *Raw vegan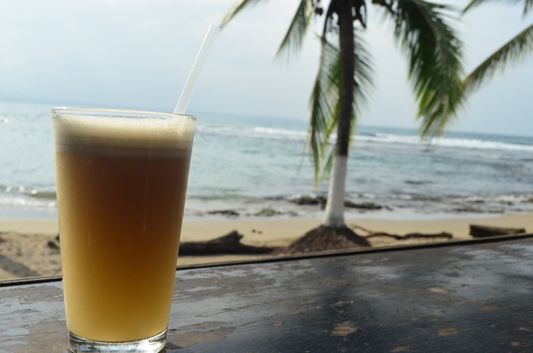 6. Talamanca original medicinal tea – for energy, immunity booster for 1,000 colones, with eco organic honey
MEALS at Puerto Pirata Puerto Viejo
1. Rrraw Pirate special raw salad – carrot and sesame seeds, cucumber with chia seeds, mint, red beets with coconut, cabbage and nuts, avocado with sunflower seeds, tomato and basil, yellow pejibaye sauce (garlic, parsley and palm fruit that only grows in the Central America and is rich in protein = here people call it a vegan mayonnaise) and white tahini sauce for 4,000 colones. I could eat this salad 24/7, trust me 🙂 *Raw vegan
2. Asian Pirate Raw Nem – Vietnamese style raw spring rolls with carrots, cabbage, celery and fresh mint for 3,000 colones Puerto Pirata Puerto Viejo *Raw vegan
3. Veggie Pirate – a special daily salad home-made for 3,000 colones. I tried this salad a few times as it always surprised me with the best ingredients. *Vegan
4. Flora made a mixture of 3 meals for us – Asian Pirate Raw Nem, Tabuleh with Quinoa salad, hummus, sweet potato salad, spicy tomato salad, tahini sauce and ginger-soy sauce. One word – delicious! *Vegan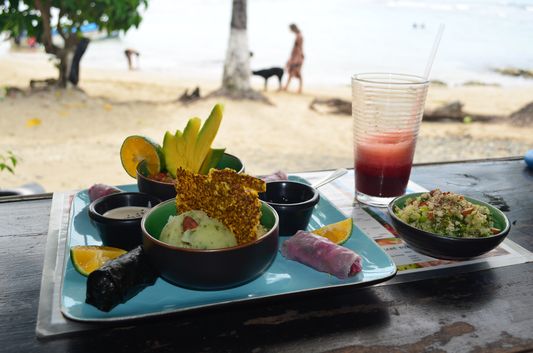 5. El Pirata Hambriento – the refreshing sandwich from El Pirata OM menu – herbed chickpeas, sweet potato (ensalada de camote in Spanish), ginger, cucumber, mint, carrot and cabbage salad for 3,400 colones *Vegan
6. D-Day After Pirate sandwich the detox one – tahini, black bean, cucumber, min, carrots, coconut, cabbage salad for 3,000 colones *Vegan
7. Hum-borgy pirate veggie burger – tomato and basil, chayote and mini veggie burgers with beans for 3,800 colones *Vegan
PS: The chocolate cake sold in Puerto Pirata Puerto Viejo is definitely the best in town. I could eat the whole cake, not just a piece 😀
PS2: The great thing about the sandwiches is that you can choose what kind of bread you'd like – pita, wheat free or even raw crackers.