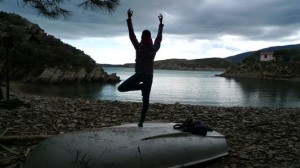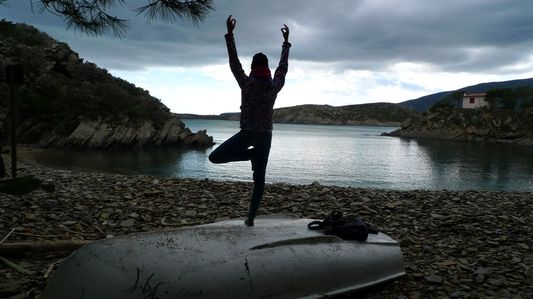 In May 2012 when visiting Costa Rica and Panama, I realized that probably the easiest sports to do while traveling around the world is yoga. I first practiced yoga on Bocas del Toro islands in Bocas Yoga studio with beautiful yoga teacher Laura.
Ever since I've had periods of time when I practiced yoga every day but unfortunately also weeks that passed without any yoga. It took me time but finally I am sure that practicing yoga is one of the best things to do on the road.
I don't carry a yoga mat when traveling but you can easily do it without it, trust me. I got used to practice on the ground, on the grass or even in my hotel rooms on the floor or carpets. It is not that tough at all.
Sometimes, I even take a few minutes to just do a yoga position or two, or relax my mind doing meditation whenever possible, especially in the nature, gardens or even my hotel balconies.
Here are some of the photos I took of myself practicing yoga around the world:
When visiting Costa Brava in March 2013, we took a boat trip to Cap de Creus and pulled over at Cala Guilolla beach. I found a pretty amazing old boat there and practiced some basic yoga positions on top of it when my travel buddies were getting ready for lunch.
* Thanks to Richard from Charming Villas for taking these photos of me 🙂
A few days after every morning I froze my ass off doing some yoga positions at the balcony of Hotel Terraza in Roses, Spain.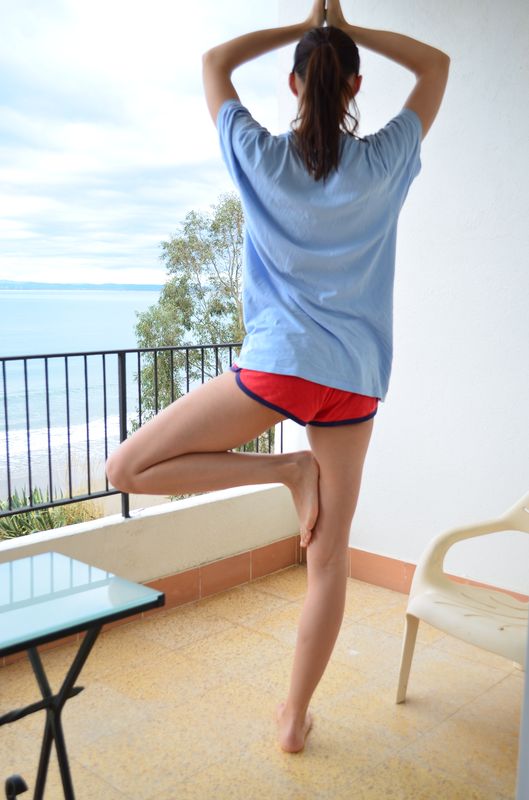 Back in May 2013, early morning when it was not too hot, I enjoyed the views from my balcony at Marina Fiesta hotel in Cabo San Lucas in Mexico.
Oh, and after kayaking I took a second for a tree pose on Balandra beach close to La Paz in Mexico too. Look at the beauty beach!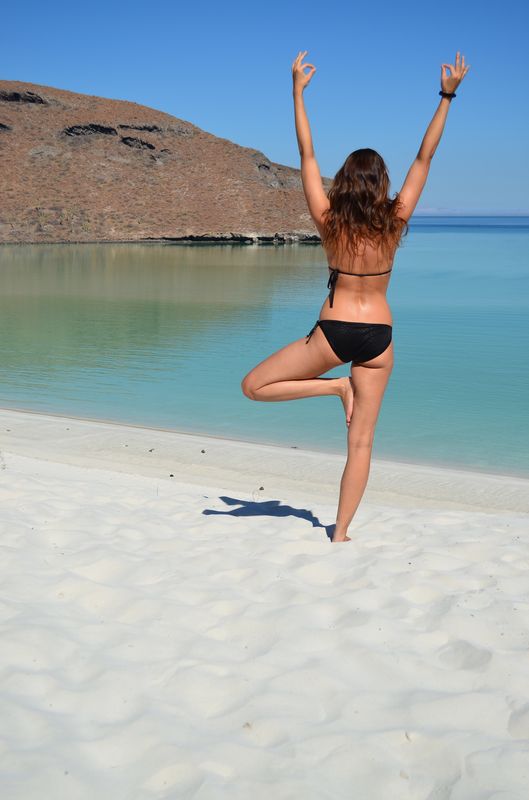 On top of my favorite pyramids ever – Teotihuacan, one of the many archaeological sites in Mexico I visited – I practiced some yoga for a bit too. The photos were taken by my tour guide on top of the Pyramid of the Moon overlooking the Pyramid of the Sun.
Then, in June, when I expected warm weather in Canada, it was pretty cold and rained a lot. I even had to use my fireplace at L'Auberge des Falaises in Charlevoix, tuck myself up in bed and drink warm tea. That was obviously after the morning yoga at the balcony.
I know my head is missing on the photo, sorry. I still have it so no worries 😀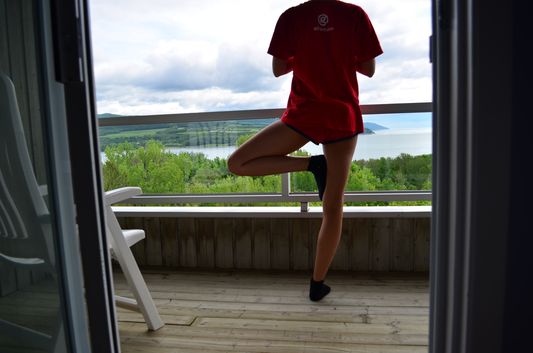 Spending a few days exploring the multicultural Montreal in Canada, I also took a few hours to practice SUP yoga on the river with KSF. It was my first SUP experience and also SUP yoga in general, so took me a while to stand up and learn something, especially when kind of scared of falling into the cold river with my sinus infection. And, it was raining. But Josie, our instructor from O'Yoga was amazingly patient so in the end we all enjoyed our time.
When visiting Bratislava, the capital of Slovakia in summer 2013, we took a canoeing trip along the Danube and when stopped to take photos of the Devin castle, I tried yoga … tried in the river. By the way, check out more sexy photos from the Danube 🙂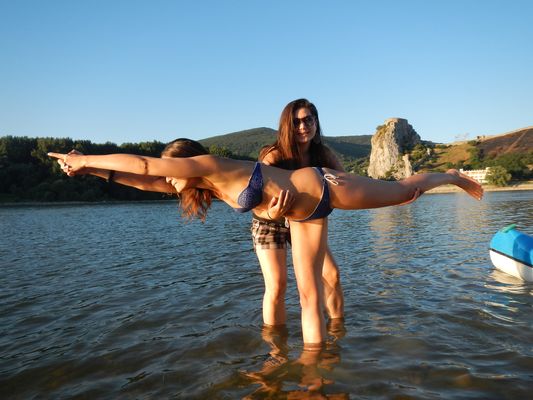 With a bunch of Slovak friends we took a road trip to Portoroz in Slovenia and stayed at Majda apartments for 5 days. There, before breakfast, I stretched my bones at the balcony too.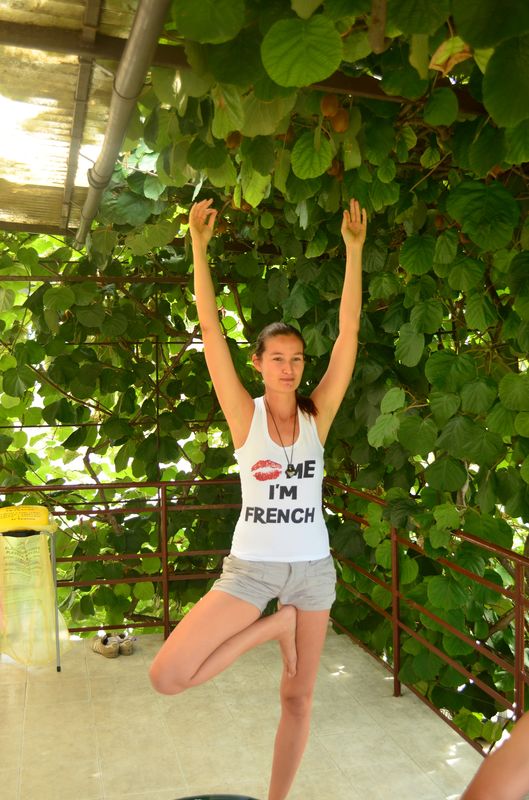 With my friend Lukas practicing early morning yoga in the cold weather in Slovenska Ves, Slovakia.
Waiting for 2 hours at the train station in Krivan, a small village in Slovakia, I decided to strech a little bit when there was no one.
And last but not least, meditation in my home town Snina, Slovakia.
Do you practice yoga around the world on your trips too?