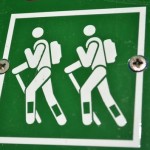 People often ask me what sports I do when traveling. Honestly? Not so many like I should. But at least I am trying hard.
There is just one simple tip behind it: walk, walk and walk. Yes, each time you can, just walk.
Taxi? No, thank you.
Public transport? No, I'd better walk and also see some new buildings and more "real" life on the streets.
Do the local people tell you the only way to get where you are headed is to take a bus or tube for those 2 stops? Do not listen to them, ask for the direction instead. You can walk there, trust me.
What is the best way to get to know a city? You guess it right – also here to walk is important. There is always so more to explore in between the most famous attractions than just those. It is a win-win. You find new cool off the beaten track spots and also stay fit.
Hiking? Yes, please. I do a lot of hiking. I am still not fit as much as I would love to, and my nose operation years ago did not help it as I cannot breathe properly but I still do try. I go hiking in Slovakia in summer and there are always hidden gems to explore in our High Tatras or Sninsky kamen. I also so loved hiking in Patagonia for a few weeks.
There are days when I can walk/hike many kilometers. I remember when visiting Rome with a friend, she counted then that we walked more than 23 km that day. Impressive, right?
Walking will burn calories, shape your legs and get you a hot ass like I have.
Yes, that is the only secret behind my sexy butt. I walk ALWAYS  unless it is longer than 30 min walking in super heat or very cold after long hours on the road with no sleep and heavy baggage. Or unless I am late somewhere, or it is dangerous to walk in there. Apart from this nothing can stop me.
Don't be lazy next time. You got legs to use them. Bring on more walking!
Do you walk or do you usually take the local transport when traveling?