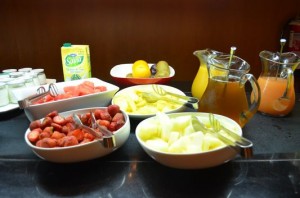 Each time I travel, I observe what people do and eat and then they complain about how they look like. Yes, people have breakfast included in their hostels and hotels most of the time but guess what? They just go and have a coffee at empty stomach or even worse, they just don't go to eat at all. And I wonder why because when I choose a place to stay, logically I also check if there is breakfast because I want it.
What they expect from their body is like not giving gas to their car and still hoping it will take them a long way that day. Yes it still can go using the remains of the gas but it is not the same. This is probably the easiest comparison.
It can take only 10 – 15 minutes to prepare and eat breakfast so trust me, if you prefer 15 minutes of longer sleep or just smoking a cigarette while having a cup of morning coffee it is not worth it. But breakfast is necessary for both your body and brain to function the best way they can. And like I already mentioned, you really should eat 5 times per day in order not to gain weight but lose it. Studies show that people skipping breakfast tend to get obese after some time.
And also, how do you want your body to work at the fullest without eating for hours? Just imagine that after dinner you slept for a few hours and then you don't eat until lunch? That can be easily 12 hours our of 24 thta your body has no nutrition.
And it is not just to eat anything for breakfast so you can be happy saying you did have something. The problem then is obviously what you eat.
In many countries people have very unhealthy habits in the mornings which makes it difficult to stay fit. In many hostels the only breakfast you can get is bread with butter and marmalade with a cup of black tea or coffee. None of these could be considered as healthy breakfast. Or in Spain or France for example, if you go to a restaurant/cafeteria they usually only offer sweet pastries, pancakes, cakes or muffins. And in many other countries it is sausages, bacon or other fatty meals.
We don't want any of these. Fat will just stay on our belly and all that sugar will boost our sugar levels and mood but then very quickly go down.
I agree, maybe 80% of all the breakfast options you could get around the world are fatty or carb-filled with no nutrients.
But what we really need in the morning is fiber, minerals and vitamins. And there are hotels or B&B with healthy breakfast. The other day in Genoa I stayed in a B&B where I could get a very tasty and healthy morning meals. And also just recently in Liguria and Costa Brava I stayed in hotels with fresh made vegetable and fruit juices and a lot of kinds of cereals.
Eating breakfast is one of the best habits you can develop. Start tomorrow morning. I can proudly say that if I counted all the days of my 28 years of life when I had to skip breakfast, I think it would be easily equivalent to the number of fingers on one hand.
Do you eat breakfast every day? If not, will you try to after reading this post?