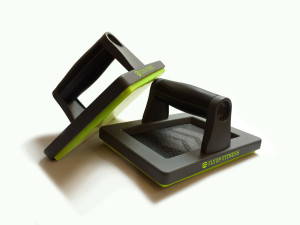 Most people reading this blog can relate to the struggle between wanting to exercise more often, but not being able to get to a gym regularly.  There aren't many products on the market that are travel friendly and can deliver an effective total body workout at an affordable price.
Brent Kruithof was a Certified Public Accountant who spent late nights doing audits in his cubicle and traveled frequently for both work and pleasure.  He also had a young family and social commits that kept him from getting to the gym regularly.  Brent faced the common problem of trying to stay fit and living a busy life that often took him on the road.  Not being able to find a solution on the market, Brent took matters into his own hands by developing a product called the FLYUP.
The FLYUP is a set of two pushup handles that slide easily across surfaces like carpet, wood floors, tile floors, gymnasium floors, rugs, laminate, and more.  The idea is based on body weight resistance and slide training to do both functional movements (multiple muscles contracting at once) and isometric movements (single muscle contraction).  The result is a total body workout device that is about the size of a book, and can be used for dozens of exercises for people of most ages and fitness levels.
Brent developed the product for his own personal use, but after positive feedback from friends and family, he decided to leave public accounting and turn the FLYUP into a full-time business.  After assembling a team, he has launched his sales through Kickstarter (http://kck.st/1gHDofb) and has experienced more great feedback. The Kickstarter campaign reached the funding goal in about 10 days and still has 3 and half weeks to sell the FLYUP.
If you've been looking for a training device that gives you a great workout when you are traveling, the FLYUP is the answer.  This compact piece of equipment will deliver a great workout wherever you take it.
Check out the video too FUF Kickstarter.