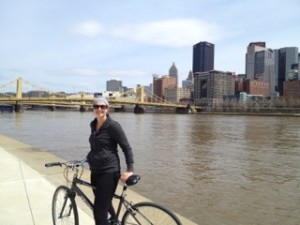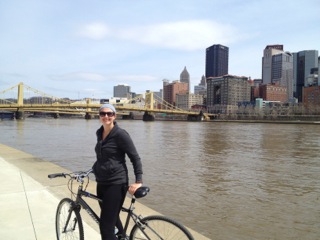 Laura Genutis is a 30-something living in Pittsburgh, PA. who travels often for both business and pleasure. On her website Eclectic Travel Girl she shares photos and stories from her adventures. Aside from travel and photography, she enjoys the outdoors, yoga, biking and reading all of the Internet.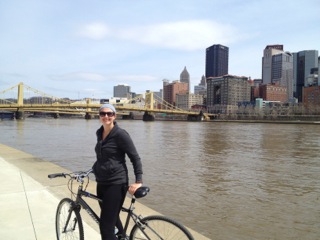 1. Honestly, do you find it hard to stay fit when traveling? If so, what is the biggest challenge for you?
I find it incredibly challenging to stay fit while traveling. In addition to leisure trips and vacations, I travel 30-50% of the year for business. Between long days sitting in meetings, big group dinners and of course drinks and happy hour, it's nearly impossible to make time for exercise. Especially since I'm not a morning person, I only have the short window between the work day and dinner with clients to try and squeeze in a workout at the hotel gym, a workout in my room or a run outside. It's a challenge but it's definitely worth it!
2. What do you think about vegetarian/vegan/raw food diets? Do you follow any of them?
I have heard amazing things about these diets but have never followed any of them. However, as part of my Year Without challenge I'm going to be giving up meat for the month of April. It will be interesting to me to see how it goes, although I typically don't eat much red meat in general.
3. What sports do you practice on the road?
I love to do yoga, run or rent a bike to explore when I'm traveling. I also try to walk as much as possible when exploring a new city. In addition to those, anytime I go on a business trip I try to add on a day for an adventurous local activity. I've been diving in the Florida Keys climbed Camelback Mountain in Arizona, went surfing in San Diego, and went biking through the Grand Tetons all while I was in these locations on business trips. I always recommend trying a local sport or activity when visiting a new location. It provides an opportunity to something new and unique to the area, and for me it provides something to look forward to on an otherwise strictly business trip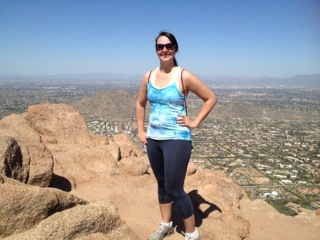 4. Do you think mental or spiritual side is also important when staying fit? Is meditation close to you?
I've gotten into meditation through my yoga practice. With my hectic schedule and sometimes stressful travel days, my yoga and meditation practice have helped me to stay in a calm and happy frame of mind. It's an amazing way to manage stress and stay sane, and it helps me cope with difficult things in life. I hope to expand my meditation practice in the future and meditate daily.
5. Your top 3 tips for other travelers to stay fit when traveling?
1. If you're in an inactive office job like me, you have to make time to do something active every single day.
2. Listen to your body while traveling. You'll begin to feel sluggish if you're overdoing in with too much unhealthy food or drinking, and not enough exercise.
3. Don't give up your routine just because you are traveling. Establish a diet and exercise regime that you can use while on the road and you'll feel so much better because of it!