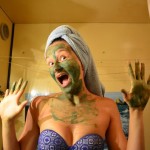 The other day when I was invited to Prague for my interview for the Czech version of Cosmopolitan magazine, I also walked all around the city all day checking out the best places for raw vegans like me. As I believe that one of the most difficult natural things to find is a hair shampoo, I decided to get one in Biooo shop and make a review of it.
Biooo shop is a small eco drugstore with natural cosmetics located in the shopping mall Kotva, at Namesti Republiky (Republic Square) in the historic centre of Prague. It's right on the left side once you enter.
I was really surprised by the client service me, together with the other clients, got there. The girls working there were all young and smiling and seemed to know very well about the different cosmetic brands sold in the shop. And honestly, they should be experts as you cannot walk around the shop, they have to help you out from the cash desk depending on your needs.
In the end I got 100% natural shampoo from Eliah Sahil made of plants only. It's powder, not liquid, so the easiest shampoo to travel with – no spilling around your baggage, it doesn't weigh much (only 100 grams) and you can even pack it as carry-on.
I tried the shampoo 4 times already within 2 weeks to see some difference as using it just once might not show anything. Afterwards, the hair looks healthy with volume.
Natural face mask
As a face mask and healing mud freak, in Biooo I also got a natural face mask from the same company. Eliah Sahil face mask is made of bio plant extracts, algae and fullers Earth – no chemicals, no perfumes, no conservants, no alcohol, no animal testing. The mask is full of E, A, D, B vitamins (even B12), proteins, minerals, omega-6 and omega-9 etc. As well as the shampoo, the mask is also based on ayurvedic ideas.
This is how you end up when applying the face mask 🙂
Check out my video review of both the shampoo and face mask:

If you are in Czech republic or Slovakia, you can even buy it online (v Ceskej a Slovenskej republike si mozete tuto bio kozmetiku kupit priamo na predajni Biooo alebo v eshope/cez email/telefonat.) The Eliah Sahil natural shampoo for volume and the Eliah Sahil face mask via eshop here. Check out other kinds of cosmetics they sell at Biooo.cz.