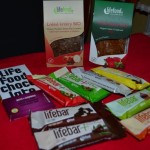 Those who know me remember I am a huge chocolate freak and also Mexican cuisine lover. Since I changed my diet to raw vegan back in July 2013, I did not want to say no to neither of the above.
The good news is I do not have to. I found the best replacements ever. And most of all, they are both raw vegan choices and even tastier than the original ones.
Now I munch on different kinds of chocolate and energy bars from Lifefood – all raw vegan made of organic ingredients. I found them when I was checking out how to stay fit in Prague a few months back and now cannot imagine my life without them 🙂
I tried different Lifebar energy bars already, such as coconut lifebar (made of 17% coconut, virgin coconut oil, dates, almonds and raw kesu nuts), or guarana lifebar (made of dates, Brazil nuts, almonds, virgin coconut oil, 4% guarana powder and vanilla powder) and some other flavours are still waiting for me there on my shelf. My favorite one so far is chocolate with hemp seeds in the dark brown and green package.
And how about my love for Mexican cuisine? I can still make guacamole – just smash avocado, with fresh lemon juice, tomatoes and himalayan salt. Easy and tasty. Instead of unhealthy tortillas now I eat Lifefood crispbread which is handmade and slowly dehydrated at low temperature below 42 Celsius degrees to keep all the nutritional properties.
The last time I tried the Italian crispbread made of herbs, flax seeds, Brazil nuts, carrots, sundried tomatoes, garlic, onion, buckwheat and basil. Yummy! The crispbread does not contain gluten, conservants, aromas, added sugar, soya. Basically 100% healthy.
Lifefood products are sold in more countries around the world. Check out Lifefood in Czech Republic where they first originated, Happylife in Slovakia or other International Distributors of Lifefood.